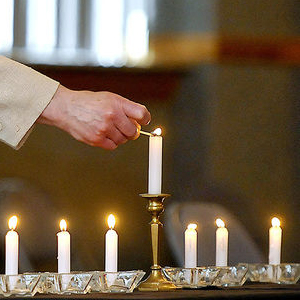 The Interview
In 1996, I was producing a television show for The College of West Virginia (Mountain State University) that aired every Sunday morning at 6:30 AM.  The purpose of "Our Gift to You" was to give television viewers the opportunity to learn about the university, as well as be introduced to the school's faculty, administration, and its donors.
Three days after the Lewin Family Bell Tower dedication on October 20, 1996, I had the opportunity to interview Max Lewin about his holocaust story and the importance of this memorial which he dedicated.  Understandably, Max became emotional during the taping when he spoke about losing his family.
I had planned to produce the program on Thursday of that week, when early that day I received a call from Max.  He requested that I not air his story until after his death.  Since that day in 1996, it was kept in my office closet at Mountain State University.  When the school closed in December 2012, I made sure that I secured this video and others to prevent them from being lost forever. Once history is lost it is never regained. Even after Max's passing in 2002, the video was never shown until this year.
The following is a brief excerpt of the interview where Max describes how he lost most of his family at Białe Błota near Borisov, USSR (now Barysaw, Belarus) on March 10, 1943.
Last summer during a bout of insomnia, I came up with the idea of sharing this video with the congregants of Temple Beth El and the public at large during the 2018 Holocaust Remembrance Day. The year 2018 is the 100th anniversary of Max Lewin's 1918 birth, and that seemed like a perfect connection.
The very next day, I dropped into Best Fabric & Foam and spoke to Tom Sopher and he was pleased with the idea to finally show the interview nearly 22 years after it was recorded.
This Sunday, April 15, 2018, we will be airing this 20-minute interview in its entirety.  Unfortunately, it is not an oral history, as that was not its originally purpose.  Only three people have seen this video: me, my daughter, and Dr. Joseph Golden.  In the video below, Dr. Golden expresses how he felt after seeing the interview.
Since the Bell Tower dedication was held indoors due to rain, an outdoor ceremony occurred the next year on November 19, 1997.  During 1997, two lights were installed in front of the memorial. With their addition, a lighting ceremony at the bell tower would serve as a surrogate dedication.  We will be showing portions of this video as well.
Max's Story
Since Max's death in 2002, his life story has been read by several members of the community.  Cindy Worley, who has had the privilege to read the story for the last several years, discusses the genesis of the original version by Margaux Siegel and its subsequent expansion.
Candle Lighting Ceremony
Another important aspect of the program is the Candle Lighting Ceremony. Members of Temple Beth El will participate in this portion of the program. Dr. Golden describes the significance of the seven candles in the following segment.
Symbolic of all Holocaust Victims, the Lewin family names will be read by Ruthann (Sam) Arnstein. Greetings, readings, prayers, and the blowing of the shofar by Rabbi David Sofian will round out this year's program. Rabbi Sofian and Dr. Golden will preside.
We encourage you to join us at 1:00 PM at WVU Tech's Carter Hall for the 27th Annual Beckley Holocaust Remembrance Day.